This Father's Day I found myself in a unique situation: I was the first one up this morning. Usually I'm the one that has to be rousted out of bed with a cattle prod on the weekends, but I had to be out late the night before so mostly everyone in the house went to bed after 2 AM. I already received the most amazing gifts on my pillow for me to find when I got home, so my wonderful wife and kids let me know how much they love and appreciate me and because my schedule threw them out of whack I figure why wake them, at least directly.
It still being an early hour I decided to step out to the grocery store to get a tasty treat for us all to start the day with. I don't know what it is like in your household but in ours I enjoy cooking, baking, making yummy tasty food for us to eat. Because I like to cook, Father's Day is a pretty solid choice in our house if you want to have a dinner made by some white guy with a bbq trying to pretend he's Guy Fieri.
Once I held the tube in hand promising Grand things from a tiny baker wearing nothing but a hat and scarf name Pillsbury (seriously, we've been letting this androgynous little streaker tell us what's good all these years? America, we've got to talk…)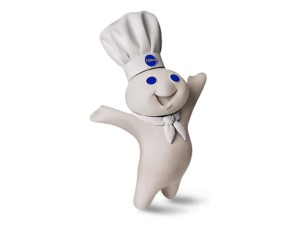 I thought it would be a fun little experiment (with way too many variables to be scientific) to see, like in the commercials, if I bake these cinnamon rolls the family will smell the sweet gooey promise of love will they wake up and come downstairs?
09:04 AM PDT: The oven has beeped, letting me know it is ready to receive the non-stick pan filled with the unending promise of good things to come.
09:14 AM PDT: The air has begun to take on the scent of cinnamon and temporary lifts in our mood from the sweet blessed butter and sugar. I hear no movent yet, except for my dog Jack who is wandering around, trying to understand what's going on.
09:24 AM PDT: You can't possibly be in any part of the house and not smell the sweet baked goodness that is already beginning to overtake my senses as I begin to visualize pouring the white sticky frosting all over the… wait a second, this is taking on an entirely unintended tone. Let's move on and not discuss what just happened.
09:26 AM PDT: Back on track. The rolls are almost done and I'm starting to lose all faith in the promises and dreams that the advertising world has been selling me all these years. I may have to face facts and realize that I can't buy happiness in a box, or in this case a round tube. (Side note: I love opening a Pillsbury Roll can because it gives you a brief moment to pretend you are unraveling some secret spy tape to reveal the code that will save humanity… just me? Again, let's move on…)
09:32 AM PDT: Reflected on how much I regretted admitting to the spy tape thing while I took the pan out of the oven because these things are done. I apply their frosting in a tasteful and respectful manner and then realize the air conditioner has been running. No one has come down because the air intake has been stealing all of the smells! That's got to be it.
09:40 AM PDT: It's been eight minutes, no air conditioner running, there's got to be cinnamon, sugar and bread smell all up in the nooks and crannies of this casa. I should have known commercials were a lie since I never had as much fun as these kids had with their toys.
Where the hell is this play area they are in? Is this a mini-recreation of a part of Death Valley or some pseudo-valley somewhere? Was there ever a Dad in America that built all of these intricate play surfaces for their kids, because if there is than THAT guy is the guy we've all been celebrating Father's Day for since the 80's.
Oh yeah, still no one up.
09:55 AM PDT: No, I haven't been watching 80's and 90's commercials on YouTube for the past 15 minutes… I swear. I got excited when I thought that there may be some movement upstairs, I think it was just the house settling (and when it comes to me, boy are we talking about settling). I may have to pull out the backup plan of brewing some coffee to at least peak the interest of my beloved wife. Again, this is for science folks.
10:05 AM PDT: I have brewed what may be classified as the first diabolical cup of coffee, or at least strategic coffee. As I sip said coffee I am left wondering, "What ever happened to the Honeycomb  Hideout? Did the land get re-zoned and now a drive-thru Starbucks stands where pro wrestlers and other random types would happen by to measure the size of cereal?"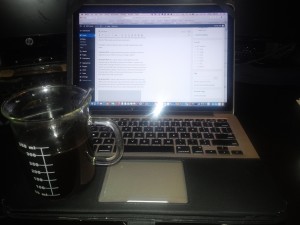 10:10 AM PDT: I have contact from the upstairs realm. A textual message has been delivered to my mobile smart device from my marital partner. Cinnamon rolls and coffee have had nothing to do with this. Although the experiment can be considered a failure, there's still coffee and cinnamon rolls so who cares?
-Will