Wednesday 4 February 2009 @ 12:39 pm
Where the heck did January go? It was just here a second ago!?!
So far there has been no new news on the Gnome front. Each day passes and nothing. It is kind of like ordering something through a catalog. You know something is due to arrive but the when just kind if jangs out there (people do remember what a catalog is, don't they?).
---
Monday 12 January 2009 @ 9:56 am
Hello whoever the heck reads this. Welcome to the New Year.
Between my last post and this one I have received a letter from my missing garden gnome McMullen. Apparently he and his wife Isabella were confused when they woke up to find themselves on a strange porch (we moved in October and apparently when they aren't moving they also aren't awake so they didn't know we had moved). This has lead to them now going on "walkabout" to try to find us. Good luck McMullen.
So here we are in 2009. We've got a new President waiting to be sworn in, economists telling us we haven't seen the worst of it yet, and now here in the San Francisco Bay Area we have racial tensions peaking due to a police shooting at Fruitvale BART in Oakland. Happy New Year!

They say things have to get worse before they can get better (whoever "they" are I just have to say that's a pretty dumb statement… it's like saying, "Wouldn't you know I found it in the last place I looked." Of course you did… why would you keep looking after you found it?!?) and we've really hit damn near rock bottom. I'm hoping this is the point where we get to start ascending again. We're ready.
-WW
---
Friday 14 November 2008 @ 11:24 am
It is now November 14 and there has been no Gnome news. I am left fearing the worst and wonder if McMullen and bride are now gone forever.
-WW
---
Sunday 2 November 2008 @ 3:22 pm
Today is November 2nd. It is two days after Halloween. Do you remember what happened to me last Halloween?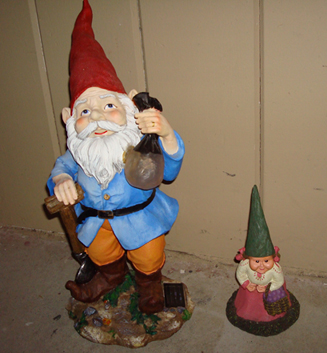 You would think that after last year I would have learned my lesson. It isn't a hard one to learn. If you have a night where strangers (or friends and family) are going to be walking up to your porch then you stand a good chance of having things from your porch. Have one gnome out, you tempt people Have TWO gnomes out? I may as well have put out a neon sign saying, "Please take these gnomes!"
Yup, that's right. The gnomes have been taken again. Last time was cute, but now the poor couple haven't even had their one year anniversary as husband and wife and they are now in the cold clutches of some deranged gnome-knapping maniac.
The saddest part of all of this? I'm actually very bummed out by the ordeal. I really like McMullen and I like his wife. The two have been proudly displayed on my porch since McMullen's safe return and now I don't know if it is friend or fiend that has taken my favorite yard decorations. Why are they gone? Because I didn't think to put them in on the same night that McMullen was taken from me once before. It's almost as stupid as leaving your removable face plate stereo in the car and NOT expecting someone to yank it out (yes, I'm guilty of that one too).
:: sigh ::
-WW
---
Wednesday 6 February 2008 @ 4:47 pm
Call off the investigation, cancel the search parties and put away those "LOST" posters… McMullen has COME HOME!
My wife returned home from errands to find McMullen and Isabella resting comfortably in the shade of our porch: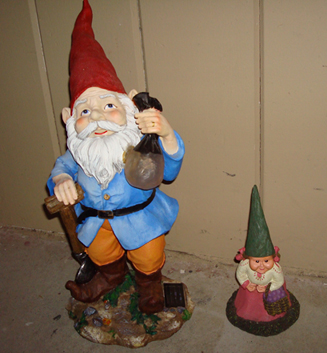 There was also an envelope containing the following message: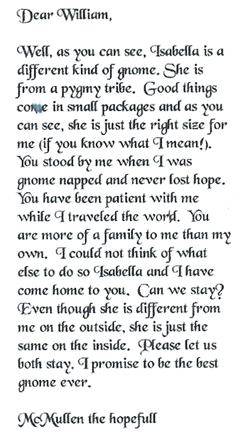 The best part? They're both wearing wedding bands!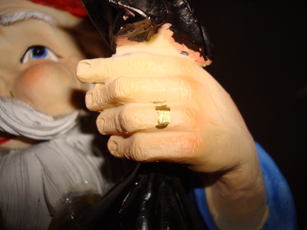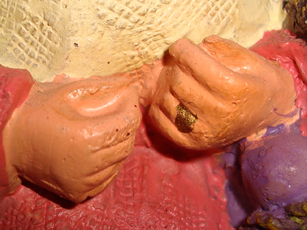 So the family has grown by one and my wonderful gnome is back home, complete with his pygmy gnome bride. I'm going to leave them both by the front door so that they are protected better from the elements.
… and they lived happily ever after.
-WW
---