Saturday 16 July 2011 @ 1:20 pm
I've been so caught up with performing SIRvice I've neglected a far more important thing. My cousin is running a half-marathon in order to help the Tourette Syndrome Association raise money because my niece has TS. Here's what my sister-in-law has to say:
=-=-=-=-=-=-=-=-=-=-=-=-=-=-=-=-=-=-=-=-=-=-=-=
Tourette Syndrome is no laughing matter!
Please sponsor my cousin who is running a half marathon on behalf of my daughter to raise money for the Tourette Syndrome Association!
http://www.active.com/donate/ns11/AT4KM
As a teenager, I remember watching an episode of Maury Povich where they were showing kids doing bizarre things. Apparently they had this strange disorder called Tourette Syndrome. I've seen numerous characters portrayed on TV (remember Ally McBeal?), in movies and comedians, making fun of Tourette Syndrome. Never in my wildest dreams would I have guessed that one of MY children would be born with this nuerobiological disorder! But that's exactly what happened! In December of 2001 in just a matter of weeks, my well adjusted, popular, happy go lucky 8 year old daughter started jerking her head repeatedly. It caused her so much pain yet she couldn't stop doing it. Then she started uttering "sh!t" under breath over and over again. No amount of punishing or time outs would make her stop. When she started having explosive outbursts of anger we knew something was wrong. It took almost a year of waiting lists, appointments, a pediatrician, a psychologist and a neurologist to give us our answer we did NOT want to hear. My daughter has Tourette Syndrome. School became difficult for her. She lost friends. She was being bullied. she was in pain from the repeated use of muscles which werent designed to be used the way they were. She was depressed. She was having rage episodes. We couldn't bring her with us in public as that just made things worse. When we did bring her places I usually came home in tears. Hurt by the way people, stared at her, mocked her, laughed at her. Adults, children, teenagers, the elderly, grandmothers, you name it, we've been bullied by them. We've even been discriminated against. She was asked to leave a tap class at a studio she had been dancing at for YEARS. They said a noise she was making was distracting (a noise that sounded like a hiccup was too distracting for a TAP class!!!???). We've had to leave movie theaters. We've even been verbally assaulted at Disneyland.
More important than these social issues, Tourette Syndrome HURTS. Katelynn has TMJ now from her jaw muscles being over used. She has headaches and eye strain from days when those muscles are over used. She has had back pain and neck pain.
Some days she has rage episodes. Many people with TS experience this. Following one of these episodes Katelynn experiences and extreme amount of guilt and slips into depression and doesn't get out of bed!
Despite these challenges, Katelynn is a shining light for any one who knows her. She's truly is an inspiration. She loves instantly and without judgment. She is the most steadfast and best friend anyone could have. She is selfless and funny and has a joy for life that is rarely seen.
My saving grace during those early years was the Tourette Syndrome Association. They were a light in a very dark tunnel. For FREE, they gave me very much needed support. They gave me the tools to navigate the SST process in the public schools so that we could get an 504 Plan for my daughter. They gave me resources on how to educate everyone we came across. they do in service sessions at schools for teachers and kids. They pointed me to doctors, gave me access to the newest research in drug therapies and treatments. The TSA gave me ways to talk to my daughter about Tourette Syndrome to help build her self esteem. They gave ME the knowledge I needed to educate even our very own doctors!
The TSA funds research to find a cause and cure for TS. They also do a fabulous job of raising awareness of what TS is. The recent shows you've seen on Oprah and HBO can all be attributed the TSA.
We very much want to give back! My cousin is training hard to run this half marathon. If you have it on your heart, please donate to this cause! If you cant donate at this time, that's OK, but please spread the word and share the link below on all of your social networking sites!
http://www.active.com/donate/ns11/AT4KM
=-=-=-=-=-=-=-=-=-=-=-=-=-=-=-=-=-=-=-=-=-=-=-=
I screwed up folks. I should have posted this A WHILE AGO. I didn't. Right now, however, my cousin is in the home stretch of reaching her goal. Because of my neglect I wanted to make sure that on this day we push her over the top, reach the goal, and help the TSA as well as letting everyone no that Tourette Syndrome is not a joke.
If you can just donate one dollar it could make a difference.
Thank you for your time.
-Will
---
Sunday 14 February 2010 @ 12:40 am
I don't know about everyone else in the world but each year as February 14th approaches I begin to feel a little bit of pressure and panic. I don't know why I do since just about every year for Valentine's Day I've provided to my lovely bride what I have affectionately coined a complete and utter suck-fest. Yes, it's true and I admit it here openly, I completely suck at Valentine's Day. I don't know what it is about the day but I seem to have some type of block at being able to put together something nice and meaningful for the woman that has been there for me time and time again over the past 20 years. You would think that after all of that time it would be easy, right? Seriously, this is the only other person in the world that I probably know almost as well as I know myself. Why can't I get it right?
Well this year I was determined to get it right. I was going to take the complete and total suck-fest and wipe it from existence. I was going to make this fun, I was going to make it exciting, and I was going to provide my wife something and do so with a grand gesture all to let her know that I love and appreciate her. Yes I was determined, I was completely dedicated to the cause and I was completely clueless on what I was going to do.
By the time this past Monday rolled around I was starting to have that panic set in. I was less than six days away and had absolutely nothing  planned. I sat on the BART commuter train completed dejected and lost. As I turned my head upward to ask for guidance my eye caught a sign and I realized that this sign was just the sign that I was looking for.
Ever since we lived in Los Angeles my wife has made it pretty darn clear to me that she would really like to go see the musical WICKED. I admit I too was very curious about it and as I sat on that BART train there before me was an advertisement reminding me and all of the other riders of the train that tickets were still available. This set the wheels in my head a turning and a plan started to evolve. I made phone calls, I ran errands on my lunch break, I confirmed baby sitting and I knew that THIS year the cycle of SUCK would END!
First and foremost I didn't want to just come home and tell my lovely wife that I was taking her to WICKED. Where is the fun in that? That's the equivalent of just coming home and saying I'd take her to a nice steak dinner, to a movie, or whatever else. Yes it could set her up for some anticipation to actually getting to see the show but it wouldn't do a darn thing in the way of real fun. I also wanted to make this fun for myself as well. With my plan in mind I simply told my wife that we would have to drop our daughter off at her Mom's on Saturday at noon and that everything else would be a surprise. When she asked what we would be doing I simply smirked and told her, "Every time you get antsy because you don't know what is going on simply tell yourself, 'What I can't know ends delightfully." If you have a careful eye you can tell that in telling her that I actually told her what we were doing but not in a direct way.
Before Saturday I packed a purple bag with three gifts.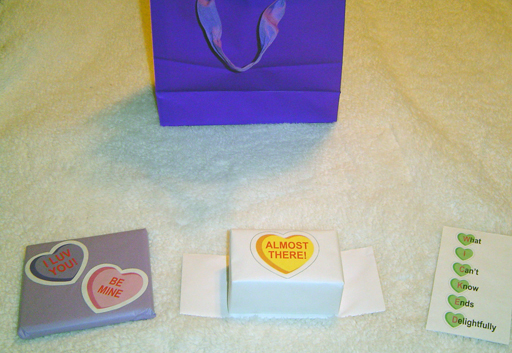 Each gift had a strategic time to be opened. With our daughter safely dropped off at my mother-in-law's house I gave her the first package to open.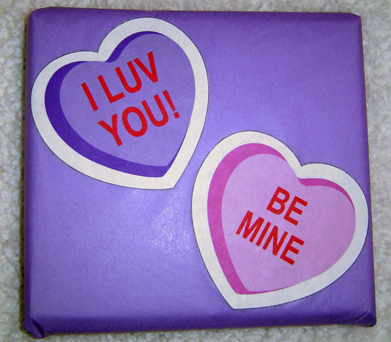 To those of you that might be wondering the answer is yes I did in fact print out and glue the conversation hearts onto the box. What was inside the box you ask? A BART ticket. Yup, nothing says romance like public transportation! Believe it or not though taking BART was a part of the plan.
As we approached the 12th Street Station in Oakland I gave her the second gift to open.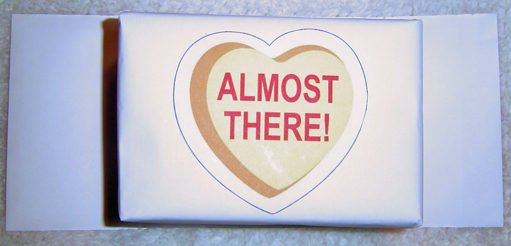 That right there is a box AND an envelope. In my mind the former necessitated the latter. You see I didn't exactly buy these tickets way in advance so I had to take the best seats that I could get. Those seats were located in the very last row of the mazzanine level, so we were going to be above and back from the stage. Having never been to the Orpheum theater in San Francisco I didn't know if we were going to have a problem seeing the stage in an acceptable level of detail so I bought a pair of binoculars just in case we might need them.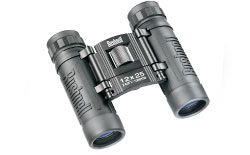 So in introducing this weird gift I decided that I needed to throw her off of why she might be getting these things. I was on the same mode of public transportation that reminded me about WICKED so I thought there was a chance we might be on a train that would have them as well and if she saw the advert and had the binoculars maybe her mind might connect the two. I know, a bit convuluted but I couldn't take a chance so in the envelope I put a picture of some San Francisco wild parrots to completely confuse and and make her think her husband is an absolute bafoon who might be taking her into the city to see parrots that she couldn't care less about seeing.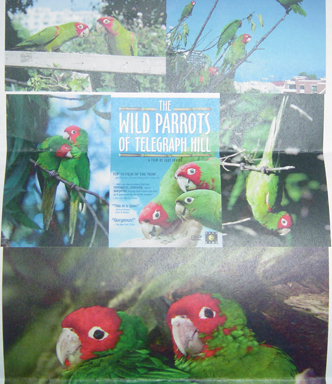 Four BART stops later I tell my lovely wife that it's time to get off the train and we began our ascent back to the surface world from the subterranian Civic Center station. As we do so I hand her the envelope that has the tickets as well as the reveal of the nutty mantra that I gave her earlier in the week.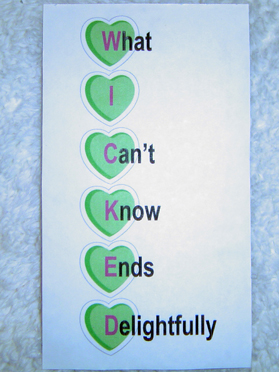 As you can see each heart is green, just like the main character Elphaba. The first letter of each word is in a different color from the rest of the letters so that when you look at it from top to bottom each first letter spells out WICKED. I handed her the envelope and kept her back to the Orpheum and waited as she looked at the envelope in her hand. She looked at it and looked at me and…. it was pretty clear that my clever little message wasn't getting across. I looked up towards the marquee, her eyes followed mine and her excitement made me feel like I just won the Super Bowl of Valentine's Day gifts.
Thankfully that wasn't everything as I also had reservations at the Market Street Restaurant and Grill across the street for a wonderful post show dinner.
So there you have it. This VD I went from Zero to Hero. Now the panic is setting in again because I now realize one frightening thought: How the hell am I going to top this next year?!?!?!
---
Friday 21 November 2008 @ 12:17 pm
Last night I was at the movies far later than I should have been. Originally it was in order to chaperon my nieces as they went to camp/wait for the first showing of Twilight (because going with Mom or Dad isn't cool) but their Mom went anyway that and I was still going with them.
After seeing Twilight last night I can say this about the movie, I liked it. It wasn't great, based on the trailers I didn't think it was going to be great, and I think if you haven't read the books you will not like this movie.
It's a pretty good adaptation of the book. It hits all the key points, trims down the unnecessary fluff, and pretty much gives you the story that you read.
I was surprised that the film even captures the one problem I had with the book… why do these two fall in love? Edward comes off as a conflicted and confused mood swinging madman that suddenly is hopelessly in love and we don't really know why Bella falls in love (however if you want insight into how this happens for Edward you may consider reading this. It doesn't completely shed the light on the how but it does help). Is she caught up in the mystique that vampires are supposed to give off to make humans easy pray, is she in love with the forbidden, or is she in love because Edward is so obsessed with her? As I said before, the film captures the story I read.
The only real issue that bothered me about the movie itself were the choices made by the director. During a pivotal scene in the film, the big admission by Bella to Edward that she knows what he is, suddenly we're assaulted with bad 90′s video music camera angles and editing that does increase the tension of the scene but in a really distracting way. These kind of choices gave the movie a feel at times that I was watching a show on the CW rather than a feature film.
I, however, am not the intended audience for the movie. My nieces were. Two out of three nieces found it "corny" and one was just baffled by the music in the film. At least one admitted they were going to see it again.
Oh yeah, the trailer for Harry Potter and the Half-Blood Prince gave me goosebumps.
-WW
---
Sunday 2 March 2008 @ 3:36 am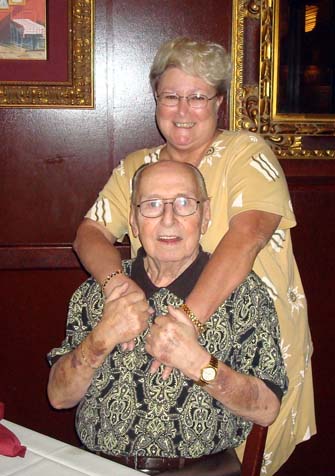 In life, I believe that the first hero that most kids have is their Dad. For boys especially because Dad is the template that we start to build who we are on. They are the first person that we look up to because they are the first strong male we know. We learn how to treat women from our fathers. We learn what types of clothes to wear for certain function from our fathers. We learn how to interact with friends from our fathers. We learn how to shave and properly tie a Windsor knot for the first time we have to put one on.
I know I can't speak for every one but I know that my Dad was the first hero I had. As far as I knew, as far as I cared there wasn't anything that my Dad couldn't do. As far as I knew there wasn't a thing that my Dad didn't know. I always turned to him for advice, I always craved his attention, I always wanted to make him proud. I always respected my Dad and as far as I can remember he had that respect just with his presence because the man never raised a hand to me. I always enjoyed my time with my Dad, there was never a time I didn't want to go see him. I truly loved him with all my heart and I'm thankful that I had such a wonderful Dad. He's still my template as I myself now am someone's Dad, someones hero.
This past Friday Night/Saturday morning my father passed away. He did it peacefully. It came swiftly with little discomfort or suffering. It is the type of passing that I am sure we all hope for our loved ones. Even with all this in mind it doesn't change the fact that I wish it didn't happen. I wish I wasn't over 700 miles away from him and I wish, oh do I ever wish, that I had gotten that last chance to tell him how much I loved him, how much he meant to me… to thank him for trying his best in making me a good man and to simply lay a kiss upon his forehead one last time and tell him good bye.
Even with all this I find that I have actually spent the entire day reflecting not on how much I will miss him, but instead on everything that he had. My Dad lived 80 long and fruitful years, he endured his trials and triumphantly came through them. He had five sons, five grand children, and a wife who loved him and cared for him in his remaining years and who instantly accepted his family as her own.
My Dad was also the most liked person that I ever met with the most friends I have ever known someone to have. He had a great sense of humor, knew how to have fun and knew the importance of getting away from it all to enjoy time with his loved ones.
I love you Dad. I am glad you are at peace and I hope you have them laughing there as much as you did here. I hope you know how much you meant to me and I thank you for everything you gave me and did for me. I'll do my best to make you proud until, hopefully, I see you again.
Love,
William
---
Tuesday 17 June 2003 @ 4:09 pm
So many times a day there are so many little thoughts that go through my headthat could actually fill this journal every single day of the year. The truthis I have to start writing them down so that I can, in fact, fill up the journalon a daily basis.
Today however I have no ramblings of non-importance because today I got somenews that is exciting and wonderful. A milestone has been achieve by one ofthe youngest people I know and I couldn't be any more proud of him. Allow meto give you some back story so you know what I'm talking about.
My Sister-In-Law Cheryl was preganant and loving it when somewhere aroundweek 27 of the preganancy (I think) my new nephew Jacob Rex just couldn't waitto come out and sure enough he did. I admit that his eagerness, while admirable,was also a very terrifying experience for his parents and it has been a verydifficult journey for them this past month and a half (or maybe two at thispoint). All of that has come to pass now because young Jacob got to finallycome home. Way to go little guy!
Jacob has come a long way, but so have his parents. I have to commend Cherylfor exhibiting great strength and courage in light of such a frightening experience.I can't think of anyone that could have handled it as well as she has and Ihave an entirely new level or respect for her.
Lesson learned: No matter what happens there is always something wonderfulthat happens every single day… we just have to take the time to realize whatit is.
-WW
---